The jury decided to award silver prizes in a tie decision to three employees who are part of Search and Rescue teams. Although full-time CAE employees, they are also on-call 24/7/365, handling critical situations and saving lives. They are their communities' angel guardians! And they are role models for CAE, living our mission daily.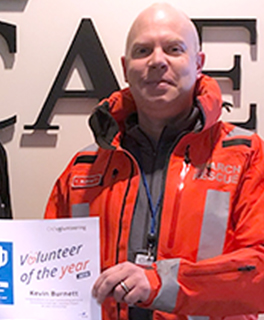 Kevin Burnett
Halifax, Canada
System/Software Developer –
Air Traffic Control

| | |
| --- | --- |
| | 323 hours for Halifax Search and Rescue |
Amount : CA$5,000
From : CAE
To : Halifax Search and Rescue
Having spent the last 24 years with CAE in both public and aviation safety capacities, Kevin learned about the work of Halifax Search and Rescue through their highest profile disaster response, the recovery of Swissair Flight 111 in 1998 off the coast of Nova Scotia.
He followed the efforts of the members of this 100% volunteer organization. He was inspired by their contribution to society, their dedication and their high level of training. When he relocated to CAE Halifax, he didn't think twice and applied to join the team.
For the last 7 years, Kevin has been an active member, contributing approximately 2,000 hours. His implication goes from locating and rescuing lost or missing persons in a wilderness environment, to urban search and rescue, responding to incidents involving despondent persons, persons with mental health problems and medical distress in remote locations, and providing recovery efforts. Kevin and the team are also on standby for any civil emergency. It's a 24-hour, 7-days-a-week, 365-days-a-year volunteer commitment.
This volunteer work is both physically and mentally demanding. Rescues are performed in extreme weather conditions for extended periods of time. Rescues can turn into recoveries. Volunteering means you put yourself in a position of seeing things that can't be unseen. But reuniting lost loved ones with their families, performing a suicide intervention, or providing medical care to save lives in remote areas are all events that are their own reward.
Thank you Kevin for being such an inspiration!
---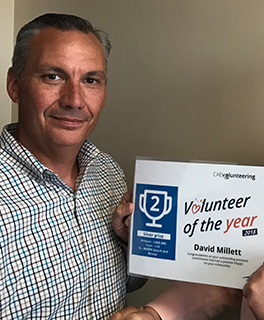 David Millett
Dallas, United States
Group Leader, Training Standards

| | |
| --- | --- |
| | 260 hours for MARK9 |
Amount : CA$5,000
From : CAE
To : MARK9 Search and Rescue
When in the military, Dave always felt an intense obligation and desire to protect the most vulnerable. He also deeply wanted to own a bloodhound dog and to develop and utilize its natural abilities to the benefit of others.
Since March 2018, Dave serves his country by volunteering with MARK9, a non-profit organization that provides free services to law enforcement, fire/rescue, parks and wildlife and other official agencies that require the use of highly skilled canines and handlers to locate missing people. Dave trains every week with his dog for a minimum of 4 to 6 hours. Volunteers must attend training weekends every quarter and train individually or with team members, and attend seminars and classroom training.
This volunteer experience requires a true love of service and dedication to professional standards. It's a personal commitment in terms of time, money, physical discomfort, and potentially, even mental and emotional stress. Dave is on call 24 hours a day, 365 days a year.
Thank you Dave for your commitment and implication!
---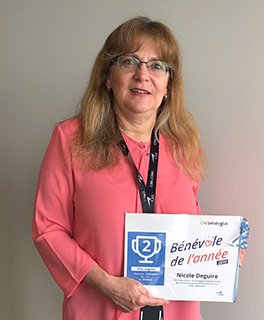 Nicole Deguire
Montreal, Canada
Project Controller

| | |
| --- | --- |
| | 442 hours for SERABEC |
Amount : CA$5,000
From : CAE
To : SERABEC
Contributing to air safety, minimizing the loss of life by doing prevention in the community, this is what motivates Nicole to volunteer at SERABEC (Québec Air Search and Rescue).
The training Nicole received in aviation safety, survival techniques, first aid and research procedures allows her to provide support for Canada's national search and rescue program. Specialized volunteer work of this kind requires a lot of compassion in order to do everything possible to save lives through a 365-days- and-nights-a-year commitment.
Thank you Nicole for saving lives!