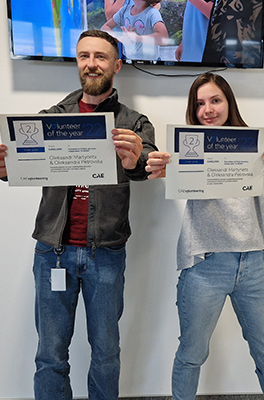 Oleksandr Martynets and Oleksandra Petrovska
Poland
Senior Software Engineer and Manager Software Engineer
Global Product and Techonology

| | |
| --- | --- |
| | More than 400 hours together |
Amount : CA$5,000
From : CAE
To : Foundation of Polish-Ukranian Cooperation "U-WORK"
After the Russian aggression against Ukraine escalated in 2022, the city of Krakow, Poland became the second-biggest transition hub in the world for Ukrainian refugees. That's where Oleksandr and Oleksandra come in. Oleksandr's work in repurposing tourist bases into shelters helped in ensuring the refugees had safe lodgings during this time of crisis. He donates hours of his personal time to maintain the warehouse where the goods are stored, prepare the packaging and even providing some furnishings from his own pockets.
Meanwhile, Oleksandra has collaborated with U-WORK to serve as a translator and educator of Ukrainian language and culture and has utilized her knowledge of Polish, English and Ukrainian to prepare social media communication for the incoming refugees. Furthermore, she has used her software development skills to coordinate the refugee flow among the foundations involved in the war effort. Overall, she has facilitated Polish-Ukrainian cooperation and helped build a stronger, long-term relationship between the two nations.
U-Work cooperates with The State of Emergency of Ukraine to provide first aid kits, equipment for rescuers and humanitarian goods for affected people.
Thank you, Oleksandr and Oleksandra, for helping the people of Ukraine!